Special Exhibits from UNICEF Archives

Concert for Bangladesh
The 'benefit concert' phenomena began with George Harrison and UNICEF in the 1970s. At the request of his close friend legendary Bengali sitarist Ravi Shankar, George Harrison spearheaded the 1971 Concert for Bangladesh at Madison Square Garden to raise funds for East Pakistan refugees, as it was then known. Joining George Harrison in 2 back-to-back concerts were Eric Clapton, Bob Dylan, Billy Preston, Leon Russell and Ringo Starr. Financial and political necessity at the time required that all proceeds were channeled through the US Committee for UNICEF. Over the years $15 million was eventually raised for UNICEF through record and film sales of the event.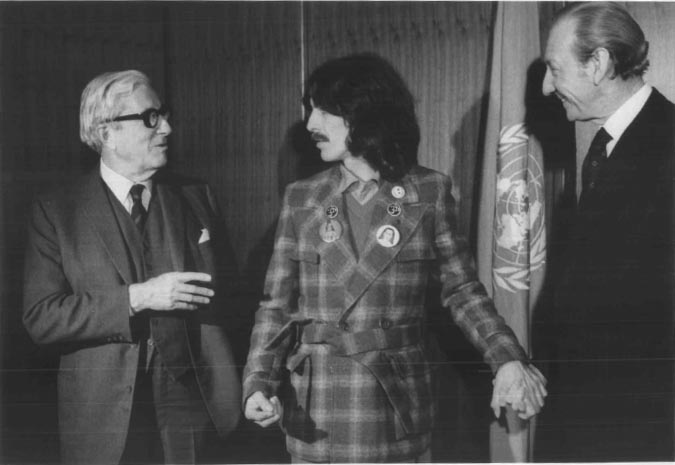 George Harrison, former Beatles musician, with Henry Labouisse, then UNICEF Executive Director, and Kurt Waldheim, then UN Secretary-General. Photo credit: Ruby Mera

Although many were familiar with 'Trick or Treat for UNICEF', George Harrison really put UNICEF on the map permanently for the younger generation. Paul B. Edwards, UNICEF Director of Information described it "But the most important thing of what George and Ravi did was that this was the first communication with the young people in their lexicon. These guys reached a whole new audience for us." (New York Post, 2 June 1972)

UNICEF subsequently tried to present George Harrison with an award, but fearing it would appear to much like a publicity stunt, George did not appear for even a modest ceremony. He later quietly accepted the award at a private gathering from his manager.

"The reason we did it," Edwards said, "was because we felt the magnitude of this act of private individuals reached so many people and moved the whole Bangladesh tragedy into the public consciousness before even the governments were willing to face up to it. The world was looking on in stunned horror, not doing anything about it, when Ravi and George drove it into their minds,
particularly. the young people's. Why, they even inspired us to get .... to work. You should have seen how what they did affected even the people at UNICEF." (New York Post, 2 June 1972)

Engaging youth is pivotal for UNICEF's effectiveness, and though social media was an unheard of phenomena in the 1970s, George Harrison ignited the benefit phenomena, touching the hearts of not just the young but every generation, and which just continues to grow in global impact to this day.