Special Exhibits from UNICEF Archives


Copy of a handwritten note from Maurice Pate,
UNICEF's First Executive Director


On December 10, 1946, the day before UNICEF was born, a telling handwritten note was penned by UNICEF's soon-to-be first Executive Director Maurice Pate. In the note Pate described the establishment of the United Nations International Children's Fund as 'a minor item in the news which may grow larger in time'.

Pate firmly set UNICEF on its future course by accepting the leadership role on one condition — that UNICEF serve children of 'ex-enemy countries'. For 60 years UNICEF has assisted all children in need regardless of race or politics and been permitted access to conflict zones where no other UN agency has been allowed. This is one of the major reasons not only of UNICEF's effectiveness, but of its enduring value in the global community.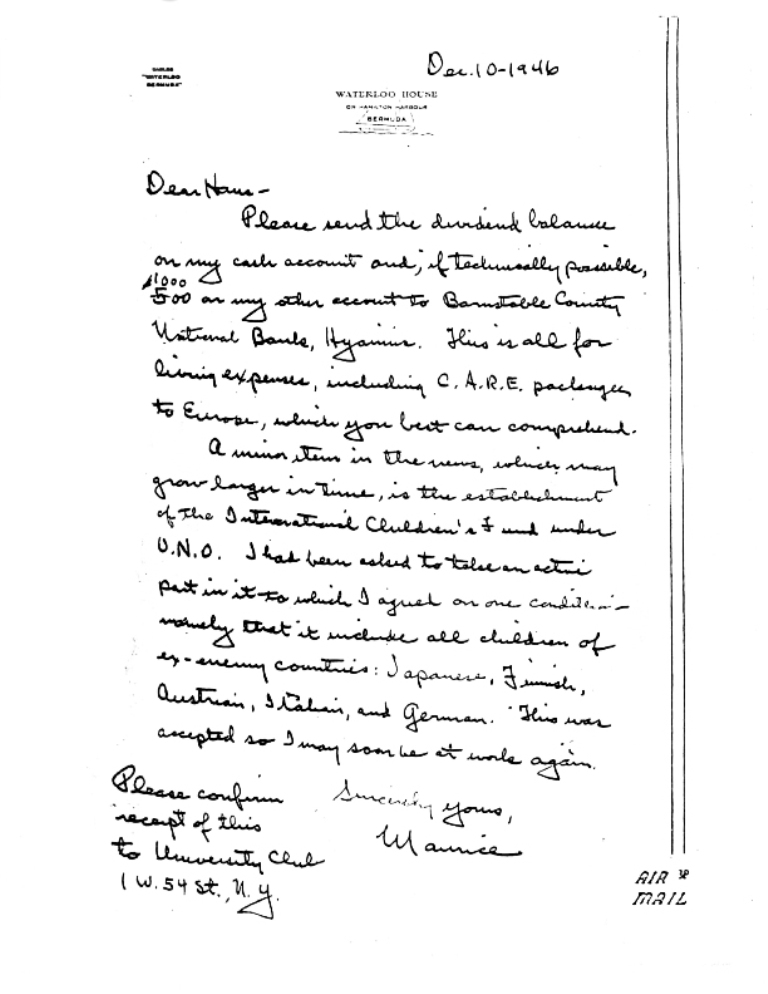 (click picture for display size)

Excerpt from 2nd paragraph on
'Children of ex-enemy countries'
"A minor item in the news, which may grow larger in time, is the establishment of the International Children's Fund under U.N.O. I had been asked to take an active part in it to which I agreed on one condition — namely that it include all children of ex-enemy countries: Japanese, Finnish, Austrian, Italian, and German. This was accepted so I may soon be at work again."

From a copy of a handwritten note to Hans Paschen
from Maurice Pate, 10 December 1946
(One day prior to UNICEF's founding and preceding his
appointment as UNICEF's first Executive Director)